Mark Twain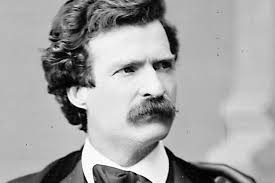 Samuel Langhorn Clements, a legendary writer, better known as Mark Twain, was born on November 30, 1835, in Florida, Missouri. His family had seven children, but only four were able to survive, and Samuel was the third of them. When he was four, the Clements moved to Hannibal town in the same state. The young boy encountered slavery, which was subsequently condemned in his writings. The Clements had been a wealthy family until the father's death in 1857. After that, Samuel experienced difficult times; he had to leave school and help his elder brother Orion, who began publishing a newspaper, the Hannibal Journal. It was his first attempt to write. The newspaper was discontinued after a while, and 18-year-old Samuel left the town and went to work in typographies of such big cities, as New York, Philadelphia, St. Louis and others. During this time, he was engaged in self-education. However, typography did not attract him, and at the age of 22, he started shipping. Samuel became a steamship pilot, and, according to his testimonies, this was a dream job, but the Civil War of 1861 put an end to this. Shipping routes of the Mississippi River were blocked, and the future writer filled the ranks of the civil uprising. Not having spent there even a year, he went to Orion in Nevada. At that time, gold and silver were mined in prairies of the state, and he started working in silver mines hoping to get rich. Samuel was writing humorous stories for Territorial Enterprise newspaper during that period; in a year he received an invitation to become a journalist. Then he took his famous pseudonym Mark Twain, the idea of which was got from his pilot job.
Literary success has pursued him since that time. Despite the work in different newspaper editions, he, being an excellent speaker, publicly read his fun stories, which won the public's favor. Mark Twain spent five months on the Quaker City steamship as a correspondent of the Alta California newspaper. There he collected material to write the first book The Innocents Abroad. Its humor and mild satire did not leave the readers' audience indifferent, and the novel became the beginning of Twain's ascension to his novelist's success. The cruise was also fateful in writer's personal life. He met Charles Langdon on the ship, who became his friend and showed him the picture of his sister Olivia. Mark Twain fell in love with her at first sight, and in 1870 they get married.
In 1876, the writer published his second book The Adventures of Tom Sawyer, which also experienced success. Eight years later, Mark Twain wrote The Adventures of Huckleberry Finn that is considered a great contribution to American Literature. The novel is a sequel to the book about Tom Sawyer, but the central character is Tom's friend. The childhood of Twain impacted on the creation of the story; the action unfolds in a town similar to Hannibal; the story raises the issue of racism, which also has references to writer's childhood.
The writer opened his own publishing house after the literary triumph; he was a close friend of Nikola Tesla. As well, Mark Twain was interested in science and helped young talents to develop and become widely known.
His wife Olivia had a huge influence on him; she was his first literary critic. Because of her religiosity, Mark Twain, who never believed in God, had to abandon the publication of some works. In total, about 15000 pages were hidden in the drawers of his desk. Subsequently, a bad streak began in the writer's life. Olivia fell seriously ill, but Twain did not lose optimism and helped her stay cheerful too. After several unsuccessful financial contributions, he had to admit the bankruptcy despite the reluctance to do that. The publishing house collapsed; Mark Twain continued to write, but his stories lost their soft humor, eventually turning into sharp satirical works, which were not able to repeat the success of the previous novels. Some of them were banned by American censorship due to writers' strong social position.
The last Twain's years were accompanied by deep depression; death of his friend Henry Rogers in 1909 shocked him. The legendary writer died of heart attack on April 21, 1910.
The 10 Best Mark Twain Books
1. Roughing It (1872)
2. The Gilded Age (1873)
3. The Adventures of Tom Sawyer(1876)
4. The Adventures of Huckleberry Finn (1884)
5. A Connecticut Yankee in King Arthur's Court (1889)
6. The Tragedy Of Pudd'nhead Wilson and Those Extraordinary Twins (1894)
7. Following the Equator (1897)
8. The Mysterious Stranger (1916)
9. Eve's Diary (1906)
10. Autobiography
Related essays:
MARK TWAIN QUOTES
"Carlyle said 'a lie cannot live.' It shows that he did not know how to tell them."
Mark Twain
"Familiarity breeds contempt—and children."
Mark Twain
"I would rather have my ignorance than another man's knowledge, because I have so much more of it."
Mark Twain
"The best way to cheer yourself up is to try to cheer somebody else up."
Mark Twain
"The man who is a pessimist before 48 knows too much; if he is an optimist after it, he knows too little."
Mark Twain
"Do not put off until tomorrow what can be put off till day-after-tomorrow just as well."
Mark Twain