The Sun Also Rises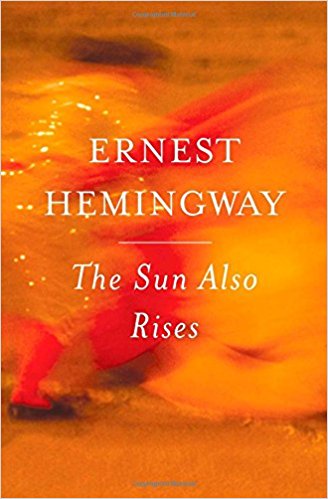 Author: Ernest Hemingway
Plot Overview
American Jew Robert Cohn met with Francis Kline and moved to Europe, where he begins to try himself in his career as a writer. His friend is the main character of Hemingway's novel, journalist Jacob Barnes. Robert Cohn admits to a friend that he likes Lady Ashley, whom they met the previous evening. Jake says that he met her during the war when he was in the hospital, where Bret was a sister of mercy.
Jake's friend, Bill Gorton returns from Budapest. In the evening, they meet Bret with her future husband, Mike Campbell.  The next day Michael talks about his desire to go to Pamplona, where Jake and Bill are going. Robert Cohn is waiting for them in Spain.
Two days before the Fiestas pass quietly. The owner of the hotel, in which Jake lives with friends, Montoya introduces the protagonist to Pedro Romero. He is a young matador. After Robert Cohn has discovered that Bret spends time with the matador, he beats Jake and Mike After that, he beats Pedro Romero and leaves Pamplona. Brett cares for the mutilated matador.
After the end of the fiesta, the heroes leave. It turns out that Michael paid for living in Pamplona from Brett's money, and the woman left with a matador without a penny in her pocket. Jake goes to San Sebastian to rest from the fiesta. The next day Jake receives a telegram from Brett. He goes to Madrid, where he finds her alone in the hotel. Brett ended the relationship with Pedro, who, she said, was ashamed of her, but still offered her to be his wife.
Main Characters
Jake Barnes –  The narrator and protagonist of the novel
Robert Cohn is a writer who loves Lady Ashley;
Jacob Barnes is the main character, journalist who also loves Brett but is unable to offer her relationships she needs;
Lady Brett Ashley is a woman who is searching for her destiny and place in life;
Mike Campbell is her future husband;
Pedro Romero is a young matador with whom Brett decided to run away but shortly changed her decision.
Literary Analysis
The artistic problems of the Fiesta are determined by two epigraphs: about the lost generation and the return of everything to its own places. The main characters of the work are young people who passed through the First World War, received severe physical injuries and lost their moral points of reference.
The central character of Jake Barnes is impotent. For all the integrity of his character and inner inclination to love and be loved, he is not able to give his woman the physical satisfaction of her passion. Jake's beloved, charming Lady Brett Ashley at heart knows that she truly loves only the protagonist, but every time she sees a nice and sympathetic man next to her, she can not restrain herself from a short romance with him.
The groom of Brett, Mike Campbell, explains the windiness of his girlfriend by the fact that her first marriage was extremely unsuccessful. Her husband had a serious mental disorder and mocked her. This circumstance gave Michael a reason to sympathize with Bret and forgive all the betrayals because her life was really difficult
As for Jake, he does not just forgive Bret; he tries to be her friend. The main character loves Bret so much that he is able to personally arrange her relationships, for example, with Pedro Romero, in order to make her happy. However, having learned that Lady Ashley was in San Sebastian with Robert Kohn, the main character begins to feel hatred for his ex-friend. Nevertheless, each of the characters feels an inner kinship with each other due to belonging to the "lost generation," which tries to find itself in an endless series of drinking and entertainment, love relationships and travel around Europe.
According to Hemingway, people are corrupted not only under the influence of spontaneous circumstances, but also under the influence of other people. When the owner of the hotel Montoya, passionately fond of bullfighting, asks Jake for an opinion about whether to give Pedro Romero an invitation from the American ambassador or not, the main character answers clearly and unequivocally: "No." There is no detailed criticism of the problem. It is assumed that the reader, wise with life experience, will understand everything without additional explanations.
Hemingway likes to talk briefly about important things. He avoids detailed descriptions and is inclined to rather enumerate things and events than to their many-sided disclosure.
Related essays: