College students often face the requirement to write a personal essay, especially when they need to get admission in a university. It is one of the crucial parts of admission, which requires time, effort, and creativity. The admission committee examines every detail of your essay and decides whether you should be studying at their educational institution. Your essay must be free of any grammatical and spelling errors. You should also make it readable, engaging, and tell your story in a way that makes you a noticeable and worthy applicant.
What Is a Personal Essay?
When it comes to the personal essay definition, you can say that it is a short paper that includes autobiographical non-fictional content and has an individual's personal touch to it. While you have to stick to this individual approach, it is necessary to maintain a formal tone that makes your work readable for your audience. Writing a personal essay is a creative task, so there is no "one-size-fits-all" way to write it; nevertheless, there are certain rules and recommendations to consider. When writing a personal essay, incorporate the following points in your essay that add value to it and give an idea about your life values and career plans:
What do you value most in your life?
Why do you want to study at this university?
How do you propose to develop after studying at this university?
Regardless of what personal topic you choose, you have to find ways to mention the above points. For instance, your topic is 'The relationship you cherish most.' This title does not resonate much with the educational preferences and career goals. But you are telling your story in the personal essay. You have to show how an important relationship in your life has shaped you into who you are and helped set your life goals.
A successful essay gives the candidate a chance to stand out among the other applicants. Even if the candidate does not have a very high score, a well written personal essay can render their academic profile a good weight. In contrast, a poorly written personal essay can become a barrier to the admission process.
Difference between Personal Statement and Personal Essay
Some common questions that come from students include "What is a personal narrative essay," "What is a personal reflection essay," and "What is a personal statement essay." A personal narrative essay is a type of personal essay which creates a dramatic and engaging story that reflects the personal growth and development of the author.
Personal statement, on the other hand, relays autobiographical information about the author. It highlights the strengths, talents, and achievements of the author. The main difference between personal essay and personal statement is that of the approach. Personal statements can be written in first-person and have more insight into the personal views and experiences of the author. Whereas, a personal essay may contain stats and factual information.
How Long Should a Personal Essay Be?
After you have decided on the topic of your personal essay, it is important to set its length. Some colleges and universities set a page or word limit of the essay, especially when they are asking you to submit it online. But most of them do not specify an essay length. A 500-word limit was commonly known as the word limit for personal essays. But many colleges and universities have felt that this number of words was lacking. Recently the 2019-20 version of the Common Application has set the essay limit for 650 words so better stick to it.
How to Write a Personal Essay?
If you have never written a personal essay before, it is natural for you to fret over how are you going to write a personal essay. Or you have an idea of what you are going to write about, but you don't know how to start a personal essay. First of all, you need to relax; writing a personal essay for scholarship or admission is not very hard. Here are the methods and tips on how to write a personal essay.
How to Begin a Personal Essay
Your personal essay introduction is the most important part of it. It is vital to captivate the reader from the first paragraph or even better the first line. The opening sentence can be a joke, question, quotation, or simply a straightforward yet engaging introduction of what you are going to discuss in the essay. Starting with a strong hook not only holds the reader's attention, but it also establishes the topic of your essay and sets the tone.
One of the important aspects of your essay that structures the introductory paragraph and connects it to the rest of the essay is the thesis statement. The thesis statement either summarises the introduction or the whole essay in a way that gives a clear idea about what is going to be discussed. It is placed at the end of the introduction of the essay. Here is an example:
Though each person in your life has their place and purpose, there is always someone who is so close to you that even the thought of their separation makes you feel devastated. For me, it has always been my brother. I do not clearly remember the day I lost my parents; I was hardly five. It has always been my brother and me. He was my father, mother, sister, and best friend. My life has always revolved around him. My brother is the person whose value has never changed, and for me, he is irreplaceable.
The last sentence of this paragraph is the thesis statement of the essay ahead of it. Regardless of how simple the sentence is, it perfectly summarizes the introduction and clearly tells that the essay is about the relation between the author and his/her brother.
The hook is an integral part of your essay. Before you get to other details of how to write a personal essay for college, it will be wise to start working on a captivating hook in the meantime.
How to Structure Your Writing
The basic structure is quite as same as that of a typical essay: the introduction, the main body, and the conclusion. What approach you are going to fit into the structure of your essay is that matters. Consider the opening hook or the statement you have made and then map out the events and sequences to support it. Your job here is not only of an essay writer but also of a storyteller. A good storyteller always strategically places the turning point or the climax. Similarly, your essay should have rising action. Raise the narrative with each paragraph until you reach the turning point.
If you want just one tip on how to write a personal essay for a scholarship, it has to be the structure. The structure of your essay is just as important as the hook. The idea is to keep tight enough to keep the reader interested. Your scholarship essay is probably the most personal essay about yourself. If you can explain your viewpoint clearly in this personal narrative essay, it is an indication of the strength of your determination and the stability of your focus on your aim.
How to Include Personal Experience
It can be a little tricky to write about yourself and make your personality stand out. This happens in an attempt to stay modest and avoid showing-off your self in the personal essay. But in a situation where you are entering your dream program, there is no harm in boosting yourself a little. Your goal is to inspire the reader.
Be careful not to glorify yourself such that the essay reflects someone who you are not. Members of the admission committee now that ideal students do not exist. No student can excel in their exams while scoring the first position in games and doing voluntary work daily. Your job here is not to showcase the ideal you but the real you.
Wrap up Your Essay Smartly
Do not take the conclusion of the essay lightly as it is your last attempt to impress your reader with the paper you have written. Its last sentences should wrap up your essay well. It should reflect what the essay is about without adding any redundancy. The conclusion should evoke an emotional response in your reader.
Personal essay examples
As you are clear about what is a personal essay and how to write one effectively by now, you are almost ready to start writing. But what about having a look at some examples of personal essay? This is crucial as your style of writing and expressing your thoughts is equally important as the content itself. In this regard, it is advisable knowing how successful essays are written and which factors make them effective.
Below are some good personal narrative essay examples that will help you understand the structure and style of an essay. Furthermore, it will also help you have a personal essay prompt that can set you apart from others by narrating an important event or aspect of your life.
Personal experiences essay
Topic: A friend in my childhood

A helping hand, a protector against tragedies and enemies and a shoulder to rest when everything is going wrong. These are among the many characteristics of a friend. Needless to say that nobody has ever lived on earth who have never had a friend. Some stay for some time, while others are lifelong friends. Fortunately, I have a childhood friend who has always been there to help me whenever needed.

I remember one incident that made a strong impact on my mind. It was a beautiful evening and my friends and I were having fun throwing pillows upon each other. Though this type of play doesn't cause any harm, it did to me. One pillow hit my left leg while I jumped and I landed on the ground losing balance. That caused sprain to my ankle leaving me with a lot of pain as the hours passed by.

By the morning, it was almost impossible for me to touch the ground with my foot. It was causing too much pain whenever I tried to stand up. The feeling of helplessness was so disturbing and painful that I couldn't stop crying.

But then my friend came in, he took me out of the house by lifting me with his bare hands. He was there until I got recovered, helping me do everything I needed, i.e. climbing the back seat of the bicycle, reaching school, coming back home, and doing my personal care.

This single incident made me have a deep respect for him in my heart. Although we are not able to meet frequently now, he is the person whom I can call the best friend I have ever had in my life. And I am very thankful to him to be my friend.
My Personality Essay (PDF)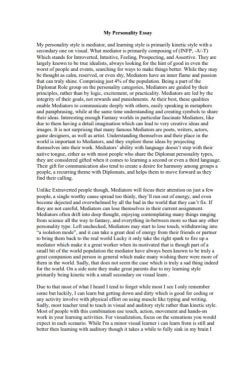 Personal failure essay
Topic: I failed to clear a semester during my master's degree

Everybody fails at doing something at one or another point in their life and that's not a matter of shame. But it can be so when you accept it and stop trying. Taking a difficult thing (that's difficult for you and not for all) as a challenge and coming out successfully needs a lot of hard work and determination.

In my case, I have never been good at maths. But things kept rolling until I reached for my master's program. With math being one of the subjects, I was supposed to study quantitative methods. It's not rocket science but still a headache for a person like me. I couldn't keep some formulas and theories in my memory.

Finally, the exam was done, and the result came. I failed in the Quantitative Methods subject. That was, though not expected, not so shocking as well. However, I was hoping for at least passing marks but got disappointed.

Obviously, this failure brought a lot of negativity, but there was no other way for me but to pass it. So, I started preparing for the next exam with increased efforts and even stronger determination. Finally, after a lot of struggle, hard work and patience, I passed the semester in the third attempt and that was one of the most beautiful and happy days in my life.

This period in my life thought me a lesson, i.e. never lose hope, never lose courage, and never stop trying.
Personal values essay
Topic: My personal values

Big things happen with small decisions and great welfare starts with small acts of kindness. But anything big or small and good or bad has one common thing in it. It is the values carried by the people involved in the situation. They are there, no matter if a person is aware of them or not. Moreover, everybody is driven by their personal values shaped by their characteristics and behavior, and only that thing decides how far they can go in their life and career. That means values are very important.

For me, honesty, kindness, and truth are the essential values for humans that play an important role in developing other values. They are present in my life from my childhood, but there are several moments in the past when I overlooked them for a short gain or comfort. However, I am thankful for the negative results that came up later and taught me the lessons thereby strengthening my values.

As far as the values are concerned, introspection goes a long way in identifying and cultivating them. I used to be very rude to others weaker or occupying lower positions, but I realized this when others in a superior position behaved badly with me. There were multiple incidents when I got to see myself going through the same humiliating situation. As a result, I learned the value of kindness that has helped me have good people and beautiful relationships in my life.
Personal growth essay
Topic: Personal growth – My journey and important milestones

Your personal growth depends on your surroundings, teachings, and your view of the world. Moreover, your personality largely gets affected by the way you live your life and it ultimately depends on material and non-material things available to you. In this regard, I believe that what I am today is completely a result of what I had as resources in the past and how I used them.

The locality where I spent my childhood was kind of a backward area where basic necessities were not easily available. My parents worked hard sacrificing their health and comforts in order to provide us with good living and education. Though I was not able to understand their struggle and hardship at that time, I realized it by the time I finished my primary schooling. From then, one thing I was certain about was that I have to change this situation and give them all the comforts and happiness they have sacrificed for me.

This realization and eagerness to change the situation played an important role in achieving personal growth in my life. It also helped to be focused on my studies. Today, I am a successful writer and online marketing professional. All credits go to my parent's support and resources who helped in my personal growth to this level.
Read other personal essay samples on StudyMoose
Make your personal essay impressive with an interesting topic, captivating introduction, properly structured body, and an emotional conclusion. The content of your personal essay must convince the admission committee members that you have an outstanding personality. Good luck.