Summer Art History 2.1
Summer Art History 2.1
"Head surrounded by sides of beef"
Francis Bacon
Mid 20th Century
English
Sought to remind us that we're all just flesh and bone. Paintings are suffocating, locked in a box.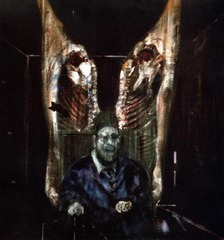 "Cow with subtle the noise"
Jean Debuffet
Mid 20th Century
French
A shocking exhibition. A different form of EXPRESSIONISM. Inspired by ART BRUT: art created by children and mentally handicapped, which he beleived was a pure art. Enjoyed mixing things into his paint (like sand and pebbles).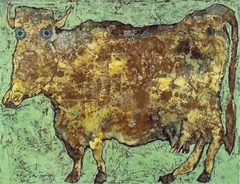 "Lucifer"
Jackson Pollock
Mid 20th Century
American
An ABSTRACT IMPRESSIONIST painter of the ACTION PAINTER flavor (verses color field painters). He enjoyed large scale pieces and sought to express the anxiety of the post-war circumstances. Action painting isn't a picture, it's a performance.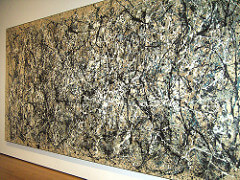 "Woman I"
Willem de Kooning
Mid 20th Century
Dutch American
Another ABSTRACT IMPRESSIONIST painter. Also and ACTION PAINTER — almost an adversary for Pollock. His pieces are shocking in their brutality, a nightmarish scene.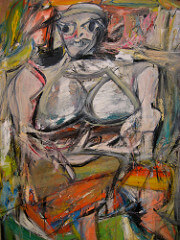 "Four darks on Red"
Mark Rothko
Mid 20th Century
Russian American
An ABSTRACT IMPRESSIONIST, but unlike Pollock and Kooning, Rothko is a COLOR FIELD PAINTER as is evident by his art.
Rich color evokes emotional response. The simple structure provides a rational counterpart — Our divided self: tension and fragmentation.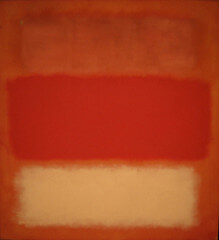 "Vir Heroicus Sublimis"
Barnett Newman
Mid 20th Century
American
Represents human's lonely condition.
Low priority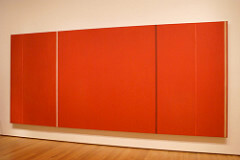 "Red, Blue, and Green"
Ellsworth Kelly
Mid 20th Century
American
Also an ABSTRACT IMPRESSIONIST but in the field of HARD EDGE PAINTING. A pairing of color + design. Has abandoned the soft, impressionistic style of Rothko (four darks on red).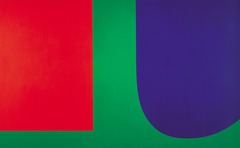 The Empress of India
Frank Stella
Mid 20th Century
Italian American
HARD EDGE Abstract Impressionism. A self-contained style. He abandoned the traditional rectangular canvas. The shape of the piece itself is part of the design. Added powdered metal to his paint to give it a metallic sheen.

Bay Side
Helen Frankenthaler
Mid 20th Century
American
ABSTRACT IMPRESSIONISM. Her pieces have a water-color quality to them because she uses pain on an untreated canvas. She pioneers "stained canvases." Worked on floor and created watercolor preliminary sketches.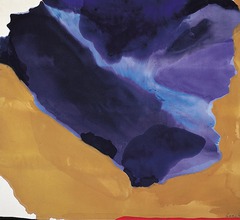 While
Morris Louis
Mid 20th Century
American
ABSTRACT IMPRESSIONISM Color field painter. Considered the most gifted of them all. There are emotional connotations, but there is nor representation.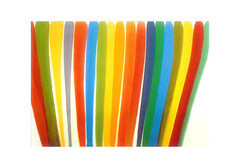 Orion
Victor Vasarely
Mid 20th Century
Hungarian French
OP ART (optical art). Has to do with vision and optics — think optical illusion. Evolves from hard-edge painting. Has a sense of science and technology. The style doesn't last. Victor is one of the only to get a sense of heart into his pieces.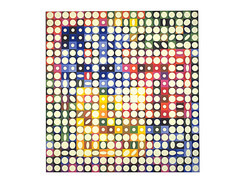 Cataract III
Bridget Riley
English
Early 20th Century
OP ART. Has a mathematical relationship. Op art anticipates computer art.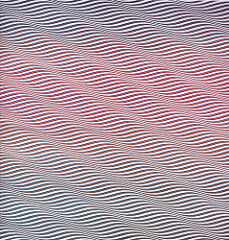 Essex
John Chamberlain
American
Mid 20th Century
JUNK SCULPTURE. Aka: assemblage. The shape, color and texture forms a new entity. It is no longer an automobile.
Cubi
David Smith
Mid 20th Century
American
ABSTRACT IMPRESSIONISM. Uses cubes and cylinders. Represents a triumph over gravity. The burnished finish gives a sense of calligraphy.
Spiral Jetty
Robert Smithson
Late 20th Century
American
Sought to take art back to nature — against the new idea that art is a commodity. Built in remote places so that finding the art is part of the piece. DADAIST and SURREALIST.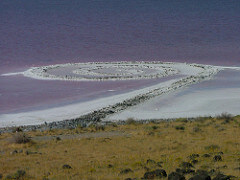 Running Fence
Christo and Jeanne-Claude
Late 20th Century
Bulgarian
Deliberately short lived, designed to enhance the environment (although they don't alter the terrain). Scale of pieces help bring many people together.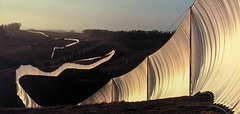 Just what is it that makes today's home so different, so appealing?
Richard Hamilton
Mid 20th Century
British
1st work of POP ART. Pop art begins in London by "Independent Group." It began with their fascination at how Britain eats up US culture. Critics did not like Pop art — did it embrace popular culture or mock it? It has a high-art/low-art mentality.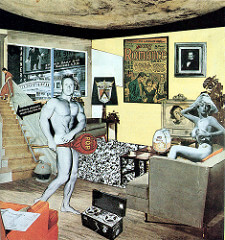 American Collectors
David Hockney
Mid 20th century
British
POP ART bring representation back to art. Bright color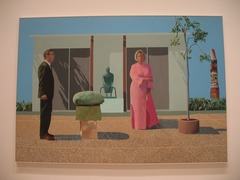 Three Flags
Jasper Johns
Mid 20th Century
American
A pioneer of POP ART. Things though of as junk can be celebrated and used — monumental. this was past cultures will be known by their everyday, commonplace items.
Also did "Painted Bronze." Two beer cans dipped in bronze and painted to look like the actual cans.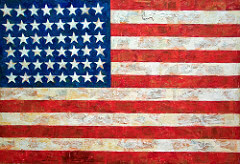 Odalisk
Robert Rauschenberg
Mid 20th century
American
Robert pioneers assemblage in the 1950s. Created mass media images. He is often called the father of POP ART.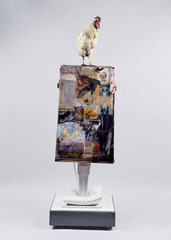 Clothespin
Claes Oldenburg
Late 20th Century
Swedish American
Critical/humorous attitude towards pop art.
Also did "Soft Toilet."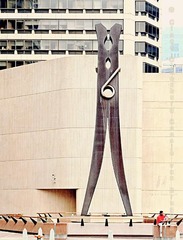 Gold Marilyn Monroe
Andy Warhol
Mid 20th Century
American
Fascinated with celebrity (and oddly with death). He understood the media and was able to create a public persona that hid his true character. Had an ability to reduce subject matter. Also his art could be mass produced which = $$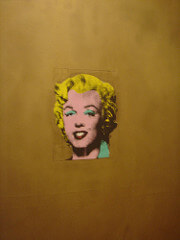 Blam!
Roy Lichtenstein
Mid 20th century
American
Probably the most paradoxical of the pop artists — you can't tell the difference between his art and actual comic strips unless you're seeing them in person.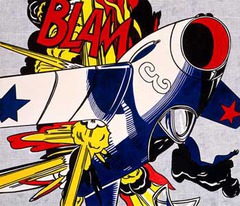 Standard Station
Ed Ruscha
Mid 20th Century
American
Uses the mass medial like Warhol. Exemplifies US pop art in the it uses cliches and reshapes them.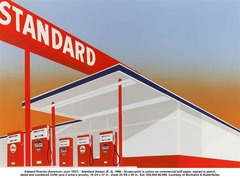 Supermarket Shopper
Duane Hanson
Late 20th Century
American
Stunningly realistic. Great stagecraft. He beleived that paper and canvas was too restrictive. He wanted reality in his art.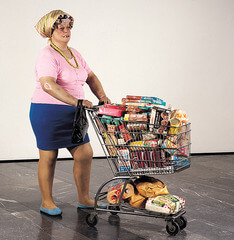 Cinema
George Segal
Mid 20th Century
American
Created live-model casts that were presented ghostly white, not photo realistic like Hanson. This allows them to be one step removed from our reality.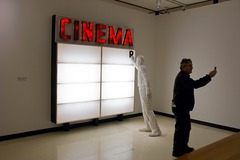 Prescriptions Filled
Richard Estes – High priority
Late 20th Century
American
Grand master of PHOTO REALISM. His pieces aren't interested in social meaning or content, instead he focuses on the facts of life. His pieces are hallmarked by minute detail, great composition, reflections and the lack of humans. Called the "Archaeologist of modern urban life."
High priority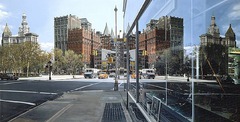 New shoes for H.
Don Eddy
Late 20th century
American
PHOTO REALISM. Using glass and transparency as filters, reality is altered creating a complex image that is hard to discern. There is a visual coherence with brilliant colors.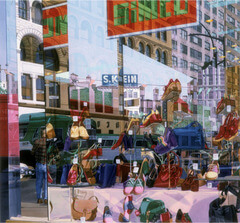 Marilyn (Vanitas)
Audrey Flack
Late 20th Century
American
Uses airbrush to create PHOTO REALISM. Her pieces often allude to women: the open peach suggests female genitalia etc. Part of the feminist art movement.
Nude self portrait
Alice Neel
Late 20th century
American
Alice got her first personal art show at the age of 84. Her early work consisted of expressionistic, distorted children. Now she creates portraits that are frank and revealing. "I've become a collector of souls."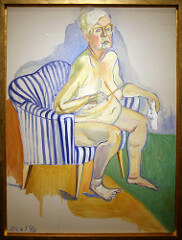 The dinner party
Judy Chicago – High priority
Late 20th Century
American
Minimalist sculptor began using female sex imagery to fight the male dominance in art. This piece notes 999 notable women, 13 settings on each side (tolling 36) each design to reflect an important woman. The triangle is a symbol of equality.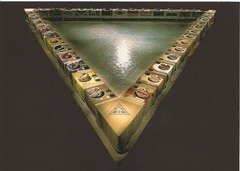 Untitled
Cindy Sherman
Late 20th Century
American
Combating that women in art has always been "for the men's gaze." They were meant to be pleasant to look at. Disassembled bodies are a harsh image that shows her hatred for the exploitation of women.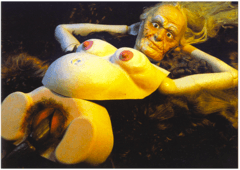 The Walk Home
Julian Schnabel
American
Late 20th Century
Made of broken china plates. He is POST MODERN which is a rejection of the mainstream (aka: "hipster" lol). He dabbles with a variety of styles. He can also be classified as AVANT-GARDE and NEO EXPRESSIONISM.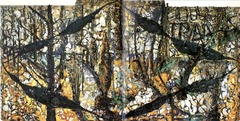 To the unknown painter
Anselm kiefer – High priority
Late 20th century
German
Struggled to come to grips with his German heritage/past. Photographed himself doing the Nazi salute around Europe, earning great controversy. He does this to acknowledge the troubled past of his country. *He is the heir to expressionism.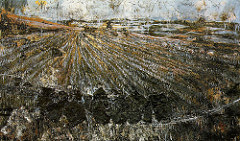 Coyote: I like America and america likes me
Joseph beuys
Late 20th century
German
Joseph lived together with a live coyote, photographed and filmed it. It was a performance.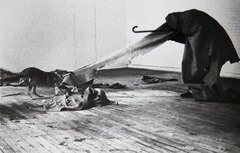 Untitled
Kiki Smith
Late 20th century
American
FEMINIST. Addresses gender issues. Has a clinical approach due to medical training. She suggests that the media shapes our perception of our bodies. White drips on male and female represent bodily fluids which forces us to acknowledge our bodies for what they are.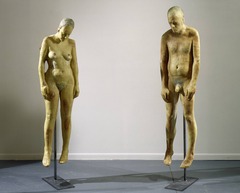 Who's afraid of aunt Jemima?
Faith Ringgold
Late 20th century
American
Two minorities in art: she is a woman and she is black. Her art addresses this. The art of quilting came to the US through slaves. She used textiles imported from Africa. Shows the struggles of women and oppression of the African american.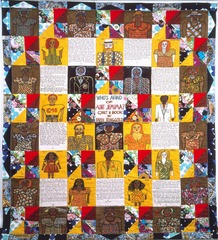 Pink Panther
Jeff koons
Late 20th century
American
Liked consumer culture and the commodification of art. He enjoyed the newness of consumerism. This is MODERNISM where a cartoon character intertwines with a centerfold.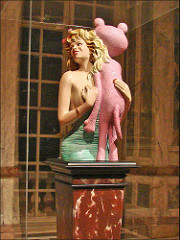 California Artist
Robert Arneson
Late 20th century
American
Started as a traditional potter and moved to amusing/satirical character pieces. A negative review of his art inspired this piece.