| | |
| --- | --- |
| Paper type: | Analysis |
| Pages: | 5 (1109 words) |
What is analysis? Merriam-Webster defines it as "A detailed examination of anything complex in order to understand its nature or to determine its essential features: a thorough study doing a careful analysis of the problem." When you are a student, you will not only learn how to write a paper in general; you will be required to write essays that demonstrate your ability to examine topics in a thorough, critical way. Analytical writing, in particular, involves comparing and contrasting ideas, assessing or evaluating literature.
It is important to note that the approach is meant to be objective as opposed to arguing for or against the quality of the writing. You should also be aware that this type of essay takes some time to complete due to the careful reading required and thoughtful discourse. How long it takes to write one page of an analysis paper can vary, but it typically takes around three hours.
Write a paper outline. As you organize your ideas, the first step should be to create an outline. This will allow you to layout your main points, organize your paragraphs in a logical order, and it ensures that you will be able to fully develop each of the paragraphs. It is especially helpful in preventing writer's block.
Write the introduction. Your introduction should provide the reader with some context and background on the literature being examined. This is especially true if the reader is unfamiliar with the work. Your argument should be clear, and it should focus on discussing an issue in the work (or multiple works if doing a comparison) at a deeper level beyond face value. While you want the reader to find the essay to be interesting, an analysis paper should not begin with a quote, question or anecdote "hook." Simply inform the reader what you intend to argue, stating it as the thesis in the final sentence of the introduction.
Write the body paragraphs. This is the meat of the paper where you discuss the main points or arguments. In most cases, you will be asked to write three such paragraphs. Each of them should contain a topic sentence, an analysis of an issue brought up in the work and supporting evidence to back it up. Naturally, every point should be directly tied to the thesis.
Use quotes and paraphrases effectively. When the text contains a very poignant statement or precise terminology that would serve your argument well, use direct quotes. On the other hand, if you are summarizing the work or the text being quoted is considerably large, paraphrasing would be more appropriate.
Write the conclusion. Your conclusion wraps everything up by restating the thesis and supporting arguments. In some cases, your instructor or professor will ask you to take the argument and discuss its broader implications. This could entail mentioning the impact your arguments might have on other claims you have made about the text. On the other hand, perhaps you could discuss how your analysis might change the way the reader would appreciate the text that you analyzed.
How to Write an Analysis Paper on an Article Examples infographic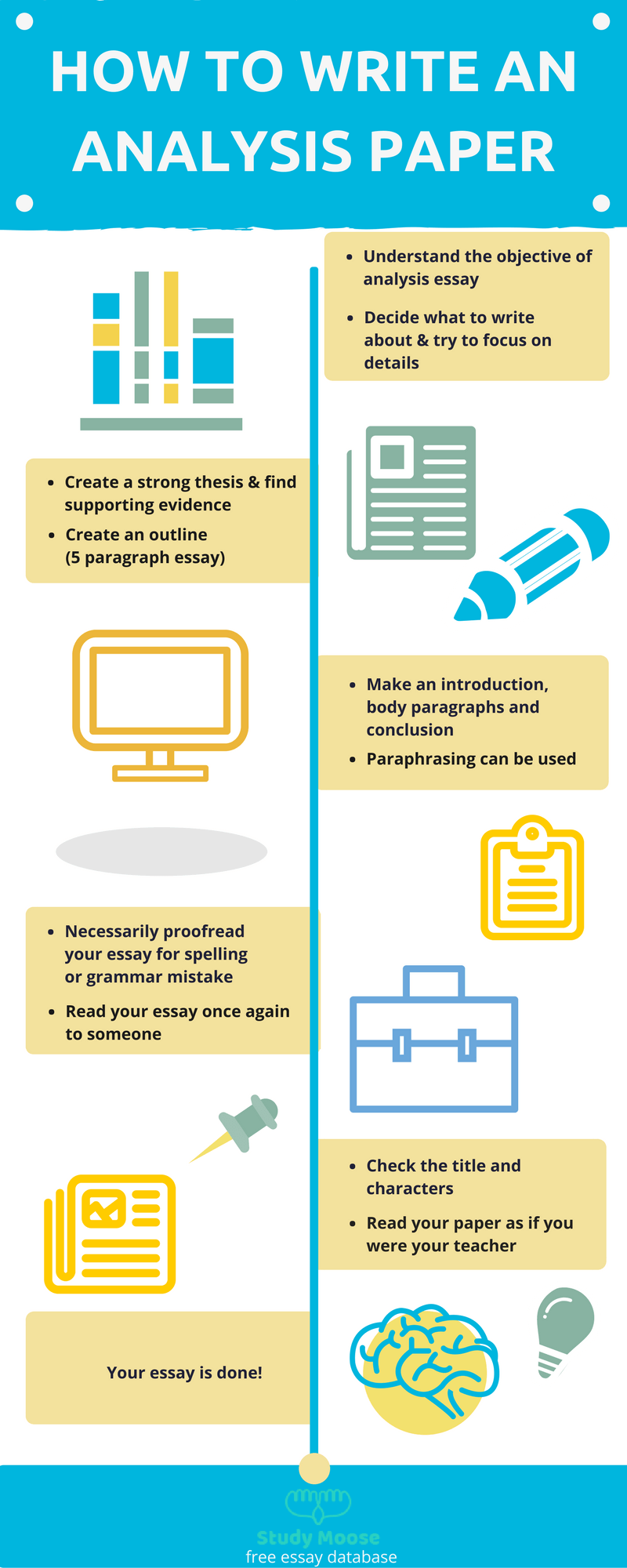 Here are some tips on how to write an intro to an analysis paper, and more broadly speaking, how to write an article analysis paper.
Example introduction: Poverty in America is a highly complex issue and one in which policymakers have offered various remedies. In the article "Barriers to Employment," the author argues that the issue has less to do with the stereotype of the impoverished being lazy and is more about cultural, psychological and logistical challenges. This would suggest that understanding the root of the problem rather than meting out punitive measures is the best way to combat poverty.
Example topic sentence: The first key to fixing poverty is understanding the cultural context.
Example analysis: African-Americans often grow up in neighborhoods where they rarely encounter white people. As a result, they feel a sense of anxiety when they are placed in an environment in which they have to interact with people whom they rarely meet.
Example evidence: The author mentions the case of an African-American woman was hired as a nursing assistant in an affluent white neighborhood. She quit after two days because she had never really been outside of her area of the city and felt uncomfortable in her new surroundings.
The paper should follow a Claim-Evidence-Explanation pattern. When making a claim, you should support it with evidence and then explain how this evidence is linked to the claim.
Example of a quote: While a job in an affluent neighborhood might seem like an opportunity that an impoverished person would not want to pass on, the woman, "Simply could not cope with the anxiety of being so far from home even as she understood that her wages at this job would have been enough to lift her out of poverty."
Example of a paraphrased sentence: The author describes an incident in which a man who holds down steady employment at a bakery loses it because his car breaks down, he cannot afford to fix it, and as a result, he is unable to get to his job.
Example conclusion: Poverty is a problem that has confounded policymakers. However, by exploring all of the ways in which various barriers have contributed to poverty, the solutions become more clear.
Example conclusion with a 'broader implications': If it is possible to combat poverty by confronting the genuine roots of the problem rather than make stereotypical assumptions, there might likewise be ways to solve other problems in society.


How to write an analysis paper examples
How to write an industry analysis paper  – View all industry essays examples
How to write an ethical analysis paper – View all ethical essays examples
How to write an argument analysis paper – View all argument essays examples
How to write an analysis paper on a song – View all song essays examples
How to write an analysis paper on sociology – View all sociology essays examples
How to Write an Analysis of a Research Paper
Writing an analysis of a research paper does not differ much from other types of analysis papers. As you work on one, observe these tips:
Do: Inform the reader of the title, author, and publication date of the research paper being analyzed.
Avoid: Using empty, meaningless expressions such as, "Since ancient times, people have been reading books" or "Science is important in modern society today."
Do: Use quotes or paraphrasing whenever the article makes a strong or even controversial point.
Avoid: Quoting large amounts of text within a paragraph
Do: Discuss the broader implications of your thesis in the conclusion
Avoid: Introducing arguments that were not previously mentioned in the paper.
Cite this essay
How to Write an Analysis Paper. (2017, Jul 05). Retrieved from https://studymoose.com/how-to-write-an-analysis-paper-essay