| | |
| --- | --- |
| Paper type: | Essay |
| Pages: | 6 (1300 words) |
While the typical writer might not always appreciate it, a good conclusion to an essay makes all the difference in the world. As you start a conclusion paragraph for a research paper or any other type of essay, you need to consider how you can leave the reader feeling as though they have learned something informative. Ultimately, the conclusion is important for bringing all your arguments together. This can be accomplished by restating the key points and reiterating your best examples.
If you want to know how to start a conclusion paragraph for a college essay, consider these helpful suggestions:
How to Start a Conclusion Paragraph infographic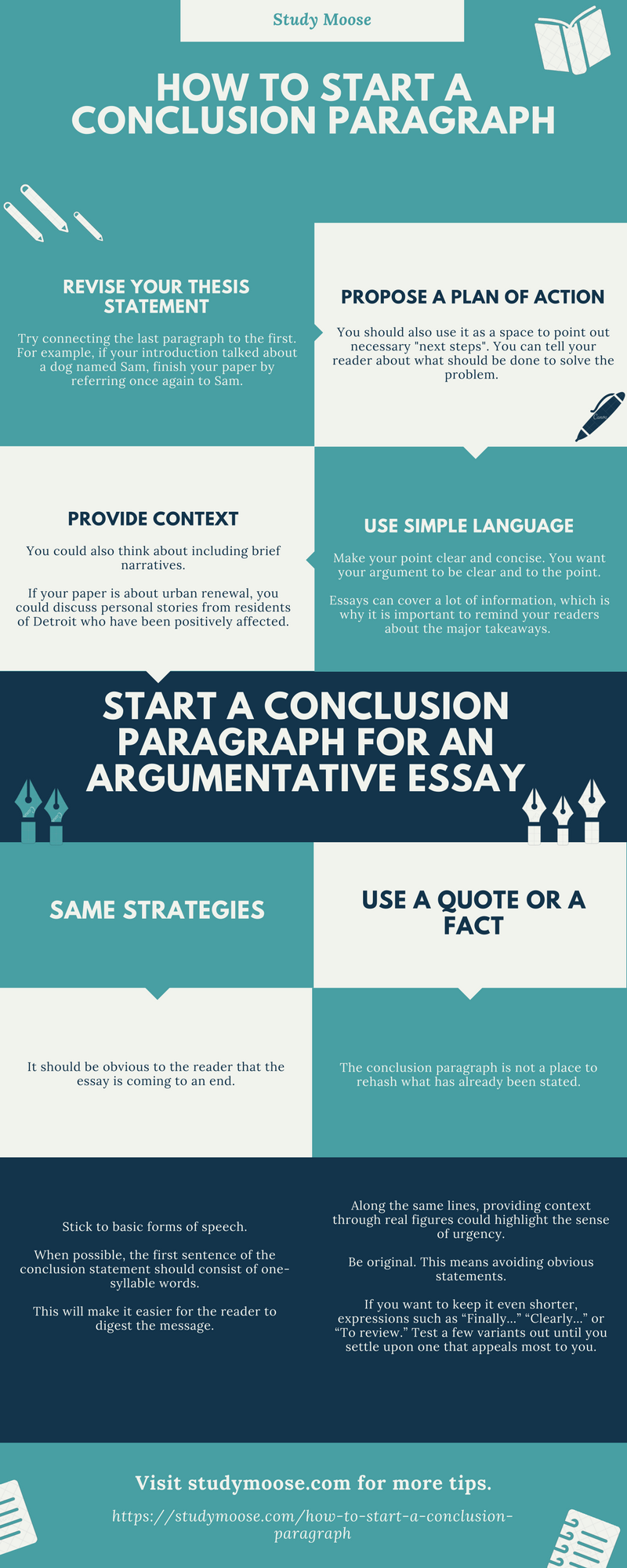 The first step is to revise your thesis statement. Until you complete the entire paper, no thesis statement should be set in stone. In fact, as you do the research you might even find that the thesis has to be slightly modified. In any event, as you are developing your ending paragraph, you must ensure that your thesis and the information associated with it is consistent from start to finish.

The arguments must be logical and understandable to the reader.

You should also avoid making general statements like, "This essay will discuss health care in America."
Instead, you would want to make a very clear argument such as, "Healthcare in America should be an absolute right for all of its citizens. This paper will argue that universal health care is the most moral, cost-effective solution."
Recite your thesis statement out loud. Does it sound logical when you hear it?
Reword the thesis statement. While the conclusion should reinforce the main points, do not simply copy and paste your arguments.
For example, if your thesis statement is, "People often argue that NBA was better in the 1980s compared to today. However, the truth is critics of contemporary NBA are merely blinded by a sense of nostalgia. Using statistical analysis, this paper will demonstrate that the quality of basketball is not only equal to previous eras, in most ways basketball today is a far superior product than it was three decades ago." You could rephrase it in the conclusion as, "As this paper demonstrated, the quality of play in the modern NBA is far better than it was in the 1980s in virtually every measurable category on offense and defense."
Being specific is a key. Essays can cover a lot of information, which is why it is important to remind your readers about the major takeaways.
This can be accomplished by providing specific evidence through quotes. For example, you could write, "As noted researcher Brad Bushman reminds us…"
You could also think about including brief narratives. If your paper is about urban renewal, you could discuss personal stories from residents of Detroit who have been positively affected.
Point out the main arguments one final time. Do not merely list your arguments though, synthesize and link them together. By doing so, the reader will be able to understand how all of the points are broadly connected.
For example, if you are talking about urban renewal in terms of the higher level of economic productivity and lower crime rates, you can discuss how the two are strongly connected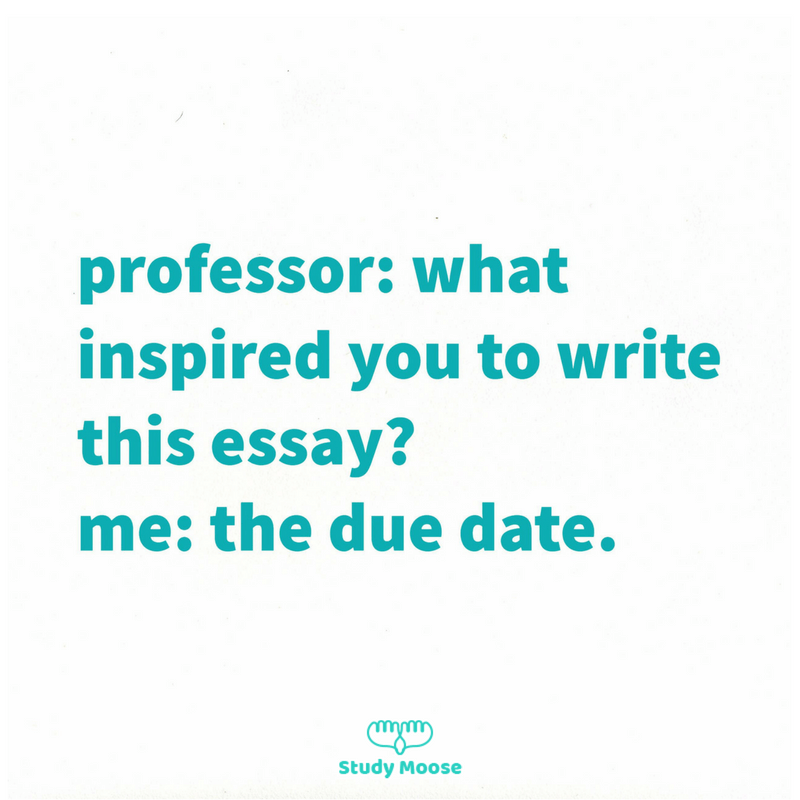 Writing a conclusion paragraph ideas and samples
Еngineering – View all engineering essay examples
Genetic engineering friend or foe essay
Genetic engineering and the law essay
Cambridge engineering selector essay
Еngineering hours accounting system essay
Biofuel and engineering microbe for cellulase production essay
Procrastination – View all procrastination essay examples

Procrastination abstract essay
Stop the procrastination essay
A brief survey and analysis on procrastination among undergrads essay
The art of procrastination essay
Latin quotes of the day essay
Friendship – View all friendship essay examples

Of mice and men coursework theme of loneliness and friendship essay
What does john steinbeck have to say about friendship essay
Compare the way that Charlotte bronte and john Steinbeck show the theme of friendship essay
Friendship in the west friendship in islam essay
What are th elements that build a strong friendship essay
Civil war – View all civil war essay examples
The course of civil war essay
Why did the reds win the civil war essay
Women in the civil war essay
Bloody civil war essay
The civil war essay
 How to Start a Conclusion Paragraph for an Argumentative Essay
The same strategies for writing a conclusion paragraph for a college essay apply to argumentative essays. Further suggestions for both include:
Establishing a sense of closure. It should be obvious to the reader that the essay is coming to an end. To accomplish this, make references to things that were discussed in the introduction.
For example, if your introduction included a reference to your cat, the conclusion could likewise talk about the cat.
Alternatively, if you use a quote or a fact, that was previously noted. This serves as a nice way to wrap the paper up in the mind of your reader.
Discussing the broader implications. The conclusion paragraph is not a place to rehash what has already been stated. Instead, you should use it to discuss what steps need to be taken in order to find a solution to the problem. By discussing how to go forward, you are making it clear that the essay has reached its conclusion.
If you are discussing ways to foster a greater level of political change, you could write as a solution, "Term limits would result in fresh ideas and put an end to career politicians."
Furthermore, if the focus of your paper is the popularity of Facebook, you could discuss the broader points associated with how social media has changed the world.
Stick to basic forms of speech. As you start a conclusion paragraph for an argumentative research paper, you will want to express your argument clearly. Avoid using a thesaurus to fish for obscure synonyms since common words are perfectly fine. You should also use short, concise sentences instead of long, drawn-out ones. After all, you do not want to lose your reader's attention.
For example, instead of writing, "It has been made abundantly clear that at this junction the only solution is…" just stick with, "Clearly the only solution to this problem is…"
When possible, the first sentence of the conclusion statement should consist of one-syllable words. This will make it easier for the reader to digest the message.
Context matters. You may feel passionate about a certain topic, and you might even be able to defend your arguments logically, but if the reader has no idea why this topic is relevant, they are less likely to care about it. This is why the start of the conclusion paragraph in an essay should explain precisely why the issue is important.
For example, you could write, "This research on renewable energy is important because it could make the planet a better place for future generations." Such a statement is clear, direct and salient to the reader.
Along the same lines, providing context through real figures could highlight the sense of urgency. Thus, if you were to write a paper about gun violence, you could say, "In the six hours that it took to complete this paper, another six Americans were killed by guns."
Be original. This means avoiding obvious statements. As you start a conclusion paragraph for an argumentative essay, it will already be clear to readers that they have reached the end of the paper. As a result, there is no reason to write, "In closing…" or "To conclude…" There are far more creative ways to begin the conclusion.
For example, you could write, "As was demonstrated in this paper…"
If you want to keep it even shorter, expressions such as "Finally…" "Clearly…" or "To review." Test a few variants out until you settle upon one that appeals most to you.
Cite this essay
Conclusion paragraph definition and writing. (2017, Jul 05). Retrieved from https://studymoose.com/how-to-start-a-conclusion-paragraph-essay