Gertrude Character
Author: William Shakespeare
The greatest Shakespeare's creation: Hamlet
There are very few female images in the William Shakespeare's tragedy "Hamlet," which is due to the plot itself according to which the son must avenge the murderer of his father, his uncle. Nevertheless, the images of Gertrude, the Queen of Denmark, and Ofelia, the daughter of the royal adviser Polonius, play a very significant role in the tragedy. These two images embody many typical features of a female character. In the process of communicating with these women, the characters of Hamlet and his enemy, King Claudius, and also partly the characters of Hamlet's father and Polonius, who, for the sake of royal favor, are ready to put his daughter under attack, reveal themselves more deeply.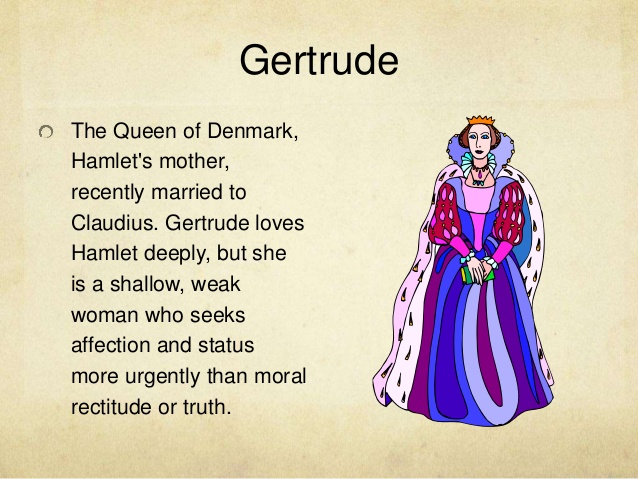 Perfidy
Hamlet calls Gertrude perfidious, lamenting that his mother very quickly forgot his father and married his brother. Gertrude's influence turned out to be significant not only upon her two husbands but also upon her son. It should be noted that this influence is mainly of a negative nature. A vivid example of his mother makes Hamlet doubt women's fidelity in general, thereby poisoning his love for Ophelia. However, it is hardly possible to call Gertrude perfidious; rather, she is frivolous. If she knew the whole truth about the death of her first husband, she would, of course, hardly have decided to join her fate with his murderer. However, ignorance does not justify the actions of this woman. Hamlet tells her that in her age, frivolity is already unacceptable, meaning her spouse whom she forgot indecently quickly and exchanged for the unworthy man. But, despite the frivolity, which does not befit a mother of an adult son, and even more so a queen, Gertrude is not deprived of worthy qualities.
The internal contradiction
Gertrude's sincere love for her son is beyond doubt. Like every mother, she dreamt that her son was happy. The heroine sincerely mourns the death of Ophelia, whom she would like to see as Hamlet's wife. But at the same time, the queen can not support her son. She obediently follows the instructions of her new husband, who wants Polonius to overhear the conversation between mother and son.  Gertrude is sure that Claudius does not want evil to her son. At the beginning of the play, the queen persuades Hamlet not to leave Denmark – obviously first of all for the love of her son, but she also remembers the words of her husband, the true meaning of which Gertrude does not reflect. However, when Claudius sends Hamlet to England, Gertrude does not try to prevent this: she again does not suspect that the king intends to kill her son by someone else's hands, and the queen sincerely believes that her husband is simply trying to protect him from the unpleasant consequences associated with the accidental murder of Polonius.
Love of the former husband
Queen Gertrude, Hamlet's mother, is light-minded, trusting and sometimes even silly. But in any case, her first husband, the father of her son, deeply and faithfully loved this woman, despite the fact that he learned about the wedding of his wife with his murderer after his death. The dead King of Denmark, worried that his death is unvented, still worries about his windy widow.
The criminal Claudius, the second husband of Gertrude, is probably attached to her in his own way. It is possible that the sincerity of this woman, though not backed by the strength of feeling and constancy, her lively participation in the one who is with her at the moment, gave her husbands self-confidence. But, being attached to her, Claudius, without batting an eyelid, intends to kill her son; the main thing is that she does not guess anything.
However, the whirlwind of terrible events replacing each other carries her. Gertrude dies accidentally, drinking the poisoned wine that Claudius prepared for Hamlet. Polonius also perishes by accident, from the blow that Hamlet would have wanted to inflict on his father's murderer, King Claudius. Claudius could still prevent the death of his wife, but he very sluggishly tries to stop Gertrude when she brings a glass of poison to her lips. For Claudius, the desire to destroy Hamlet is stronger than the attachment to the queen: the king not only admits that his wife has drank poisoned wine, but also tries to present her agony as a faint.  Only in the last moments the queen understands where her eccentricity enticed her, and with what kind of a man she connected her life, which is about to be cut off by his fault. Like all images in Hamlet, the image of the queen is tragic with her trustfulness, blind faith in the nobility of her second husband, and also with her unexpected, absurd and tragic demise.
Related essays:
Examine Hamlets relationship with Gertrude essay
Hamlets relationship with his mother Gertrude essay
Gertrudes as Shakespeare essay
Are Gertrude and Ophelia merely pawns in the world of Hamlet essay