Views 521
Essay, Pages 2 (404 words)
Subject The work displays the image of a single Coca-Cola bottle is repeated in regular rows, seven high by sixteen throughout, above the business's logo design, printed in intense red, representing the pop art style he had actually made so popular.
Ideas and meaning in artworks The repeated images and standardized format stimulates the look of mechanical and mass reproduction, an essential part of American culture that Warhol wished to expose in his works. He wished to expose the materialistic and automatic nature of society, in his own unique method Operating approaches 'Green Coca-Cola Bottles' was developed the year that Andy Warhol established his pioneering silkscreen strategy, 1962, which permitted him to produce his paintings and illustrations through a mechanical process that paralleled his usage (and the makes production )of mass culture topics.
While still a print, the black outlines were most likely stamped by hand from a single carved woodblock onto green areas printed in a grid pattern, which shows the unique and varying strategies Warhol utilized.
Early influences The art and concepts of French painter, sculptor and writer Marcel Duchamp, possibly more than those of any other 20th century artist, have drastically altered our understanding of what makes up a things of
art. Among the qualities that Andy Warhol and Marcel Duchamp share are a desire to shock, a taste for celebrity, a belief in the everyday object.
Later influences
Muriel Latow, a friend of Warhol's in NY, told him he should make art on "something people see every day.
"
Historical and/or cultural context
Warhol once criticized and glorified the surface values of America's commercialised post-war culture using the coke as an example. "A Coke is a Coke," he explained, "and no amount of money can get you a better Coke than the one the bum on the corner is drinking." To him, the Coca-Cola brand epitomised everything American culture had become, and everything he wished to expose.
Artist's style/aesthetic qualities
Warhol has created contrast in the black lines against the bright green of the background, each with subtle differences in the work's pattern; each of the bottles differs in both the evenness of the green underpainting and in the clarity of its stamped profile. The printing process also resulted in the bottles being printed slightly askew, disturbing the regularity and symmetry of the grid and making the bottles appear simultaneously handmade and individualized, yet streamlined and mass-produced.
Green Coca-Cola Bottles, 1962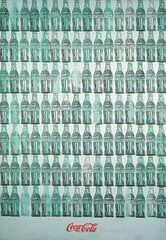 Recommended
for You
The international relations schools of thought known as Realism and Idealism identify specific and similar characteristics of actors in the conceptual development of their theories. While many of these characteristics can be generalized as being synonymous between the two theories, both theories make a separate distinction in what specifically constitutes an actor. In Realism, the...
Tomorrow when the war began is an adventure movie written and directed by Stuart Beattie. It is about the occupation of Australia by a foreign power. The film began in the Hunter Region and the Blue mountains, in tNew South Wales, Australia on 28 September 2009 with early shooting in Dungog. The film starts with...
Leonardo DaVinci's Mona Lisa is among the most popular paintings on the planet. Program anybody from a 60 years of age guy to a ten years old girl a picture of the painting and, probably, they will be able to name the painting as well as the painter. While some state that DaVinci's painting is...
"The Red Convertible" by Louise Erdrich is a short story about two Native American brothers, Lyman and Henry, and their growing bond as brothers. Symbolism is used rather heavily in this story. One of the main symbols of the story, as noted in the title, is the red convertible. The red convertible symbolizes the relationship status of the two brothers, and the struggles they face as Henry is drafted...
Pieces of art always shock us by their unusualness, fancifulness, and loveliness. Each of us has own ideas of beauty, but everyone will admit with unique beauty and richness of Andy Warhol's works. Are there people in the world who didn't recognize the Andy Warhol's name? Maybe a little quantity exists; nevertheless, this talented and...
Quentin Tarantino is a talented star in many field of work which has made him a prominent person in the world. He is one of the people who have a lot experience in movie production, director of movies, not to mention screenwriter and also he is a television actor. He is a person who joined...
Andy Warhol Art is a captivating medium. A painting can speak volumes on the current culture of the society it was created in. It's not common to see a political cartoon in your local newspaper, making fun of the current political landscape and the opinion of the people. There was an artist who didn't exactly...
Artist who uses drawing as an expressive medium: Andy Warhol Early Work: Andy Warhola began his career in 1949 as a commercial artist in New York City. He was commissioned to create a series of show illustrations for Glamour, a fashion magazine. He soon became widely popular as Andy Warhol and his works appeared in...
Not Finding What You Need?
Search for essay samples now
Copying content
is not allowed on this website
Ask a professional writer to help you with your text
Ask Writer For Help
or
Please indicate
where to send you the sample
or
Don't waste Your Time Searching
For a Sample
Your Answer is very helpful for Us
Thank you a lot!