Art Since 1945 12/07
Art Since 1945 12/07
Jackson Pollock Number 1,
1950 (Lavender Mist),
1950.
Abstract Expressionism, USA
Significance:
-An overall composition with the only foreground that was created freely by letting paint freely move
-canvas on the floor, the paint was dumped on the canvas
– painting is very thick- used industrial house paint
– Patriotic expression and style – an American style
– Part of the work is knowing how Pollock does it
-Inspired by native American sand paintings (sand design)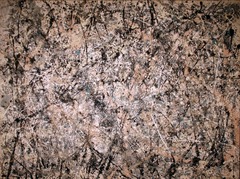 Andy Warhol,
Gold Marilyn Monroe,
1962.
Pop Art, USA
Significance:
– A challenge to question whether it is an object or fine art
– Gets rid of individual expression of artist
– Ironic message – recognizable image of recognizable celebrity put on gold background compared to the past of putting gold behind religious subjects
– Iridescent gold on canvas with paint for marilyn's image/silkscreen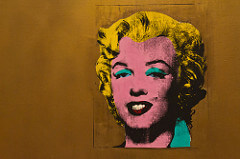 Yves Klein,
Zones of Immaterial Pictorial Sensibility,
1962.
Conceptual Art, France.
Significance:
– Artist said anything can be a commodity and so he found an area in the air, called it a zone of immaterial pictorial sensibility
– The artists threw a customer's gold in the river, wrote a receipt, burnt the receipt and threw the ashes into the river – commenting on consumer culture by destroying the idea of physical art
– the idea that "anyone will buy anything that is considered art"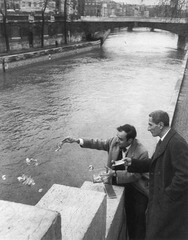 Robert Smithson,
Spiral Jetty,
1970.
Great Salt Lake, Utah.
Environmental Art, USA
Significance:
– Large, colossal, displaced land called Land art
– Took tons of black basalt rocks to create this land art
– Idea was focused on displacement, destruction and direction
– Sometimes visible, sometimes not – Non-Traditional art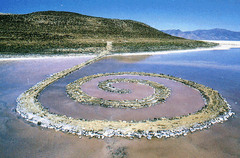 Judy Chicago,
The Dinner Party,
1979.
Multimedia.
Feminism, USA
Significance:
– 13 plates on each side totalling 39 plates since it is a triangle
– Each side relates to a time period
– Made to give credit to women since they do not get much credit in history
– Collaborative work of all women, different embroidery, carpenters, etc – shows all different contributions of women throughout time
– Shaped like an equilateral triangle to symbolise equality
– The floor contains 999 names of different women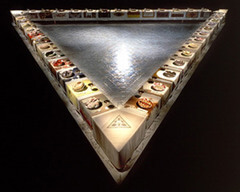 Jeff Koons,
Michael Jackson and Bubbles,
1988.
Contemporary art, USA
-Banal: every day, unimportant things that are not noticeable – but often precious moments
– Sculpted by traditional sculptors, experts of porcelain, European craftsman – not ready-made sculpture which is a common misconception
– A life-sized sculpture of Micheal and his pet monkey Bubbles
– The sculpture comments about race and America, changing appearance to be famous, Michael Jackson's skin
– Inspired by pieta – comparing Jackson to Mary holding Jesus