AP Art History Gallery 6
AP Art History Gallery 6
Ara Pacis Augustae
Set: Pax Romana (13 BCE)
Function: to celebrate the establishment of Roman rule in the provinces of Gual (France) and Hispania (Spain/Portugal). Triumphant of Augustus's return to Rome
Content: imagery of Augustus' family
Focus: allegorical/symbolic to establishment of peace and prosperity. In original setting, it would have aligned with a sundial and as (Egyptian) obelisk
1. West Side: Relief panels showing the first rulers of Rome: includes Romulus and Numa Pomplilius (successor)
2. Lower Register: fertility and plenty. Meander pattern- repeating pattern used to frame reliefs (typical of grace and Augustan style)
3. Inner Wall: Ox- symbolic of sacrifice and offerings. Garlands (flowers)- symbolic of ongoing peace. Motif of peace.
4. Procession: Suggests double line of marches. High and low relief extends narrative beyond frame (energy in scene). Figures= civic leaders, especially of Agrippa (functionaries), Livia (wife of UNSEEN Augustus), Tiberius (son), Antonia (niece), Drusus (Livia's younger son/husband of Antonia). Remarkable for realism and charm of powerful/put together family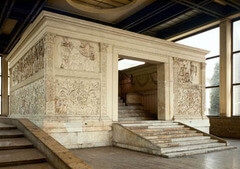 Allegory of Peace
1.Most well preserved panel
2. Shows goddess Pax as Mother Earth with women/children surrounding her (woman of land, woman of sea, animals and plants symbolic to the Mediterranean world)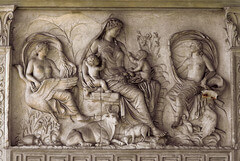 Head of Roman Patrician
Set: 60 BCE Roman. Marble
Content: realism, wrinkles, folds in skin. Not perfect. Not a god
Focus: Experienced man (common portraiture subject) and showed Roman virtues: determination, wisdom, experience, loyalty to family/state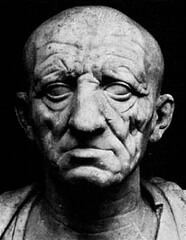 Portrait Bust of Cicero
Set: 50 BCE roman. Marble
Focus: Marcus Tulius Cicero: greatest orators and politicians of Roman Republic with a ragged and old appearance= importance
Denarius with Portrait of Julius Caesar
Set: 44 BCE Roman
Focus: circulated as coins/propaganda in Roman Republic
Content: Julius Caesar as dictator with piercing gaze, baldness, nose (similar to Cicero). Other face: Venus depicted with son Aeneas fated to rule the world.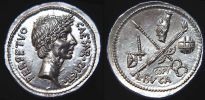 Temple of Mars
Set: 42 BCE Augustus, Rome
Function/Focus: built to avenge murder of Caesar and wanted support of God of war (Mars). Underscores Octavians/Augustus connection to Caesar and therefore his god-like status to claim leadership
* Comparable to Maison Caree ("Square House") in Nimes, France
1. (both elevated and accessed by the front with altar spaces and temples to worship. Freestanding columns with an enclosed cella)
2. Both used Corinthian order favored in the Augustus style (delicate/light/graceful/complicated)
3. Best preserved Roman temples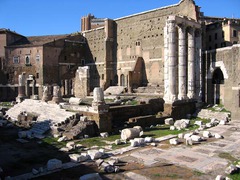 Maison Caree
*Comparable to Temple of Mars
* See Temple of Mars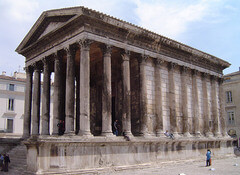 Portrait of Vespasian
Focus: shows him as a mythological god/hero (breaking from Augustan tradition) but still with realistic tendencies (hairline, brows, skin)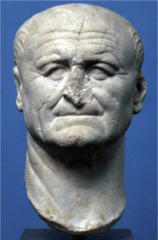 Arch of Titus
Function: to honor Domitian (Titus's brother) and to commemorate the capture of Jerusalem
Content: concrete. Veneered with marble and carved marble reliefs.
Focus: on upper panel: "Senatus Populusque Romanus Divo Tito Vidi Vespasiani Filio Vespasiano Augusto" or "The Roman Senate and People to Deified Titus, Vespasian Augustus, son of Defiied Vespasian"
1. Composite order- Roman elaboration of the Corinthian order (volutes of the Ionic order)
2. Plinth- square/rectangular base for a column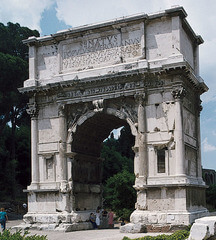 Spoils of Jerusalem
Content: relief panel on the southern face of the passageway. Soldiers carrying candelabra, or menorah, to the temple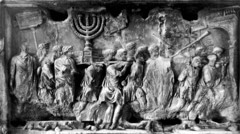 The Flavian Amphitheater (the Colosseum)
Set: 70 BE, Vespasian. Completed 10 years later and dedicated by Emperor Titus
Focus: tradition of built under thousands of animals and gladiators who died in amusement. Replaced Nero's rule
Content: Oval bowl, tall, outer and inner walls, floor covered with wood or cages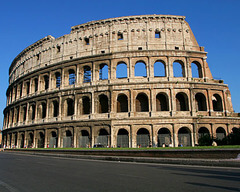 Augustus of Prima Porta
Set: Imperial Rome. 1st century CE. Marble
Focus: Propaganda. Political message of Augusts as an armed general (idealistic/god like). Contropassto. Combo of Greek and Roman art
Connection: Doryphoros: stance, overall shape, ridges on form, layered hair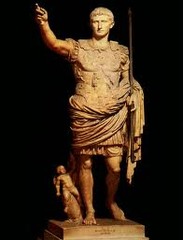 Cityscape
Atmospheric perspective- method of presenting 3-D surface to high relief (forms are little more than incised lines) (FOIL of strict, linear persp)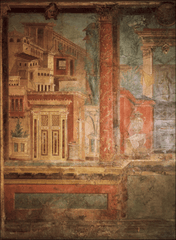 Mural in Cubiclum
Greek Second Style (ca 80-15 BCE)
Atmospheric perspective (3-D to high relief illusion)
Third Style Wall Painting
Departing from sense of depth
Focus on patters
Motifs: abstract ornamentation, figural compositions. Landscape. Mythological scenes.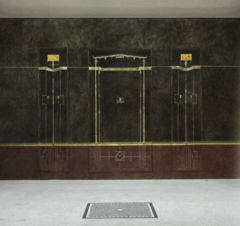 Fourth Style Wall Painting
Combo of third/second style
unreleated elemtns. Viewpoints are nonsensical and confused images. Monochromatic panels. Illusion of work of art that is hung rather than part of wall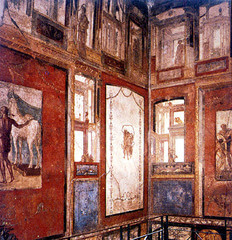 The Panthenon Freize
Set: Acropolis. 447-424 BCE. Athens, Greece
Focus: first depiction of a human event on a temple. Evidence of the Athenians' high sense of self-worth
Content: frieze is distortional, compressed, has incongruities.
Function: to represent the citizens of Athenians livelihood (favorable by the gods)
Column of Trajan
Content: more than "just the facts" of war: shows organized forces, Roman realism, bravery, mercy, etc.
Function: burial practice. Contains ashes of the emperor.
Focus: largest imperial forums in Rome. Narrative relief (going upward) of Trajan's victory against the Dacians.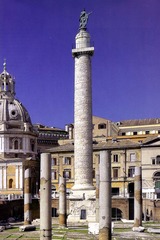 Ludovisi Battle Sarcophagus
Focus: transformation of death rituals. Cremation to burial.
Content: shows detail of scene of Romans and northern foes. Centralized horseman (son of Emperor Trajan) stands out in the victorious battle scene
Connection: Greater Altar of Zeus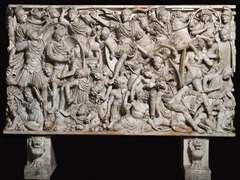 Anavysos Kouros
Male nudes more naturalistic than Egyptian influence
More rounded face, torso, limbs in comparison to Statue of Menkaure and Queen (Egyptian: perfection, strict)
Set: Archaic
Focus: heroic (from Archaic). Less triangular and more square with large too, limb,s and muscularity. First idealist perspective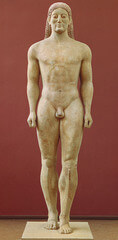 Peplos Kore from the Acropolis
Kouroi= steele ornamentation= grave markers/votive dedications to gods in Archaic period

Grave stele of Hegeso
Set: private patron commissioned for grave. Classical Period
Content: young woman/servant with jewelry box= everyday life/growing sense of realism
Focus: realistic v. ideal/ uplifting image of father (patriarchal)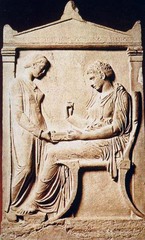 Niobides Krater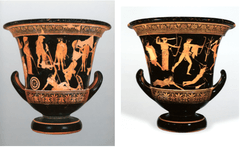 Mausoleum at Halicarnassus
Set: Late Classical Turkey
Function: built for Mausoleum/wife, honor
Focus: commissioned it to be the largest in the world (wealth, power). Influence of Egyptian. Large scale, columns classic, symmetry proportional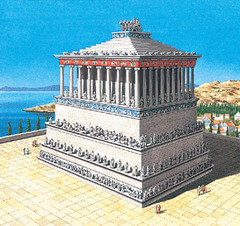 Tomb of Reliefs
(see Tomb of Hunting and Fishing/ Triclinium)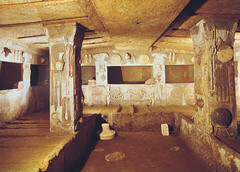 Tomb of Hunting and Fishing (Diving and Fishing)/ Tomb of the Triclinium
Content: Man dies from cliff to water diving
Focus: less concerned with rep of body in 3D than the Greeks and excelled as landscape painters
Set: 530 BCE Fresco
* may have influenced later work in Greek colonies
* detail in Tomb of the Triclinium exemplifies the Greek influence in Etruscan tomb painting (narratives)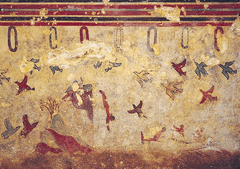 Sarcophagus of the Spouses
Sarcophogus- coffin/tomb made usually of terra-cotta and contained ashes of the deceased.
Content: upturned eyes/peaceful smile= peace/gratificatino of life
Focus: inclusion of women suggests Etruscans had a more egalitarian views of sexes than the Greeks. Etruscan adopted to Greek and created own lively/movement with body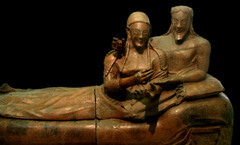 Apollo
Set: 6th century BCE (Greek Archaic kouroi time)
Focus: idealized, well muscled. Archaic smile.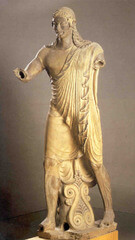 Lady of Auxerre
Geometric Greek art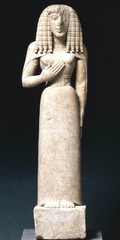 Kritos Boy
Deviation from Egyptian stoic with contropassto due to search of perfect proportions.
Naturalism in features/definition of muscles
Polykleitos to challenge proportions using system of "cross" to balance/oppose body (diagonal rep)

Doryphoros (Spear Bearer)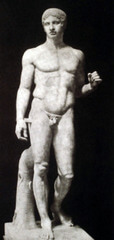 Aphrodite of Knidos
Late Classical Period.
First real female nude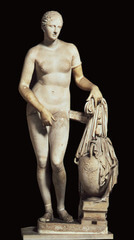 Weary Heracles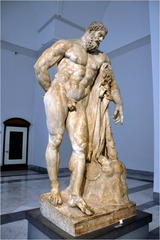 Acropolis
Destroyed by Persians in 480 BCE. Athenians under Pericles used to fund reconstruction
Reconstruction: parthenon, propylene, erechtheian, temple of athena nike
Source of religious conversions (Byzantine, Roman Catholic churches, Mosque)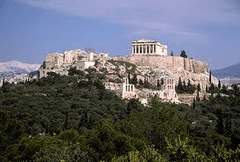 Temple of Athena Nike
Focus: dedicated to Athena (Nike)
Content: amphiprostyle plan- Greek temple with colonnade in the front and back but not on the sides. Decorated with friezes
Focus: paraphet- low dividing wall- surrounds the tempe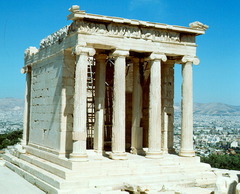 Nike Adjusting her Sandal
In Temple of Athena Nike
– awkward in graceful dress
– significance for unexplained/unexplored ways of the human figure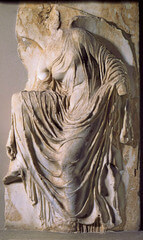 Lapith and Centaur Metope
Metopes- retangular blocks between Doric columns.
Set: 447-424 BCE. Marble. On south side of Parthenon in the Acropolis, Athens, Greece.
Focus: Lapiths v. Cenaurs. Metaphorical to fight of Greek victory over enemies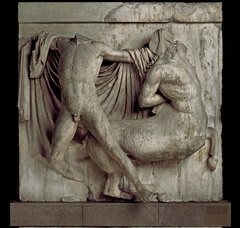 Female Figurine
Set: Cycladic art
Content/Focus: marble, abstract, geometric form, lack of anatomic details
Function: use of paint, included in burial= Cycladic mourning rituals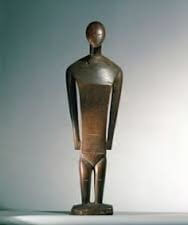 Palace at Knossos (North Gate)
Set: Minoan, Knossos Crete
Content: grid plan architecture, lack of temple= religion characterized by decentralized ritual activity v state-sponsored religion
Focus: well-lite brightly decorated, no walls/barrier for protection even with the heavy trade culture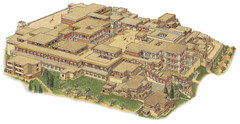 Dolphin Fresco
An example of a fresco secco: pigment painted on dry plaster (less durable)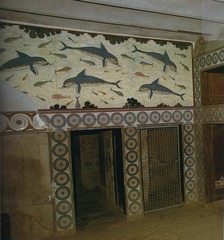 Bull's Head Rhyton
An example of the nature/significant of Bull in Minoan culture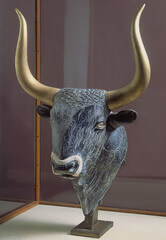 Warrior Vase
Set: Myceanean culture of inspiration from Minoans
Focus: culture represented/concered with defense and warfare
Content: warefare on vase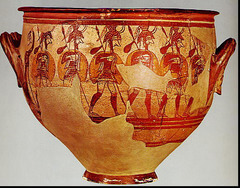 Geometric Krater
Geometric Greek art. Geometric shapes of political decline and based on angular, geo shapes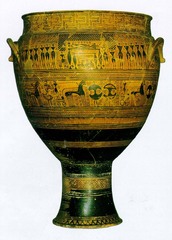 Lacoon and his sons
Hellenistic
Transformation after the death of Alex the Great in 323 BCE
Started commemorating historical victory.
Content: Shows death of a trojan priest and his sons by serpents sent by the gods
Focus: twisted figures, muscularity, contorted, engaged. Diagonal components of composition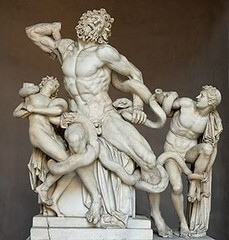 Temple of Hera I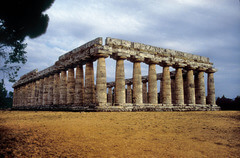 Parthenon at the Acropolis
Focus: dedicated to goddess Athena Parthenos. Harmoniuos mathematical precision obscure the irregularity of the design (thicker, leaner, inward columns)
Content: Cella culturally similiar to Hindu architecture (contains Vishnu) (think Lakshana Temple)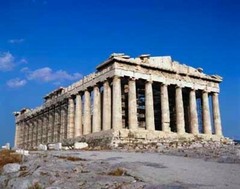 Hippodamian plan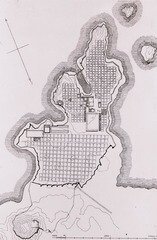 Theater of Epidauros
Hellenistic Greek.
Stoa- greek building with colonnade= theater/addressing of public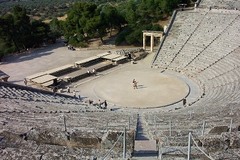 Achilles and Ajax Playing Dice
Patron: Exekias (master of Black figure)
Content: Achilles and Ajax with dice; "calm before the storm"
Archaic and Classical period influence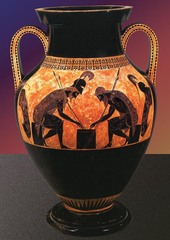 Herakles and the Cretan Bull (Red and Black)
Two images showing details of a vessel. The same image of a man's face, beard and lion-skin cap. To the left is the black-figure version, and to the right is the red-figure version.
* bilingual vases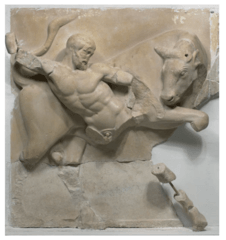 Lekythos with a Warrior's Farewell
Lekythos- flash to oil left at Greek burials
White ground technique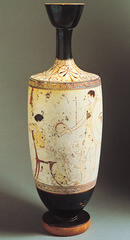 Alexander Mosaic from the House of Faun
Set: Hellenistic. Space and illusionistic detail from dying Persian. copied a painting fro the 4th century BCE by
Parton: Philozenos of Eretria
Focus: technique: tesserae- arranged to create a picture
Content: composition depicts Battle of Issues, where Alexander routed King Darius III of Persia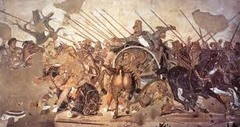 Chimera of Arezzo
Set: 4th century BCE (Roman Republic)
Focus: large scale bronze, one of the first major Etruscan artifacts of Renaissance
Content: wound in neck, muscles stretched in attack
* chimera= lion body, serpent tale, goats head out of body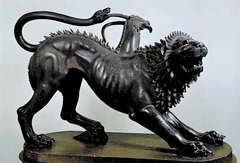 Fibula with Orientalizing Lions
Animal imagery borrowed from the Near East. The lion on this fibula (clasp/pin jewelry) is in hammered relief. Resembled of Greek Orientalizing pottery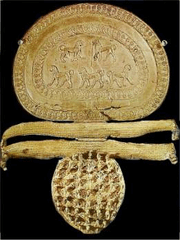 Capitoline Wolf
Focus: story of Romulus and Remus for Roman Republic. Similar to Etruscan work.
Content: head lowered, ears alert. Greek gods in style.
Set: 500-480 BCE unearthed in Renaissance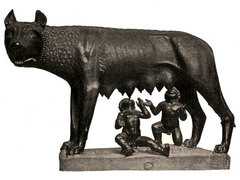 Neptune and Amphitrite
Focus: wall mosaics
Set: Byzantine/Medieval Europe
Content: sea god Neptune, wife Amphitrite on wall. Technique: tesserae to show illusion of depth. White highlights the degree of dimensionality and drapery and shadows from figures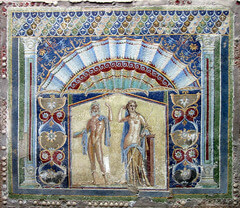 Great Altar of Zeus
Content: narrates victory of Attalos I over Guals.
Focus: mythological commemoration. figures in frieze dominant space/balances of 3D in nature. Narrative with emotional intensity and violence
"figures frozen in time"